Choosing the right eCommerce provider is an important first step if you are a company looking to provide an online shopping experience to your customers.
But there are so many choices out there, so how can you tell which will be the perfect fit for your business?
To help you get started, browse our cart guides to understand the key features you should look out for, pricing and integrations available for some of the most popular eCommerce carts.
Get your eCommerce journey started by learning more about PrestaShop.
What is PrestaShop?
PrestaShop is an efficient and innovative eCommerce solution stacked with all the necessary features needed to independently create an online store and grow your business.
You can download PrestaShop for free to create a demo store that best showcases your industry and browse examples of other stores to provide inspiration for your own eCommerce site.
There is a range of useful resources to help you set-up PrestaShop, or if you prefer to source a trusted agency to create and scale your business, you can choose PrestaShop Experts.
PrestaShop, which is currently used by 300,000 merchants, also offers two further packages to take your online store to the next level – free PrestaShop Essentials or PrestaShop Platform that is fee-based.
PrestaShop Essentials
PrestaShop Essentials is a downloadable tool kit designed to increase your sales and reach more customers.
The tool kit has three modules covering sales, payments, marketing and analytics, which have been developed with leading web and eCommerce partners.
Whilst the payments module is set within PrestaShop Essentials there are other payments technology providers to integrate with depending on the needs of your business.
PrestaShop Platform
You can opt for a hosted and fully managed platform by and for PrestaShop.
The PrestaShop Platform offers an all-in-one online visibility and performance suite to help expand and extend the benefits of PrestaShop Essentials.
With PrestaShop Platform, you can expand your eCommerce platform, power up your website and create new customer opportunities through enhanced SEO performance and mobile experience.
PrestaShop Pricing
PrestaShop is totally free and gives you the opportunity to set up your store and start trying out the platform. PrestaShop Essentials modules are also free and give you the opportunity to enhance your online store.
For a fully hosted and managed solution, PrestaShop Platform has pricing packages from S to L ranging from €200-600 per month, and XL pricing on demand.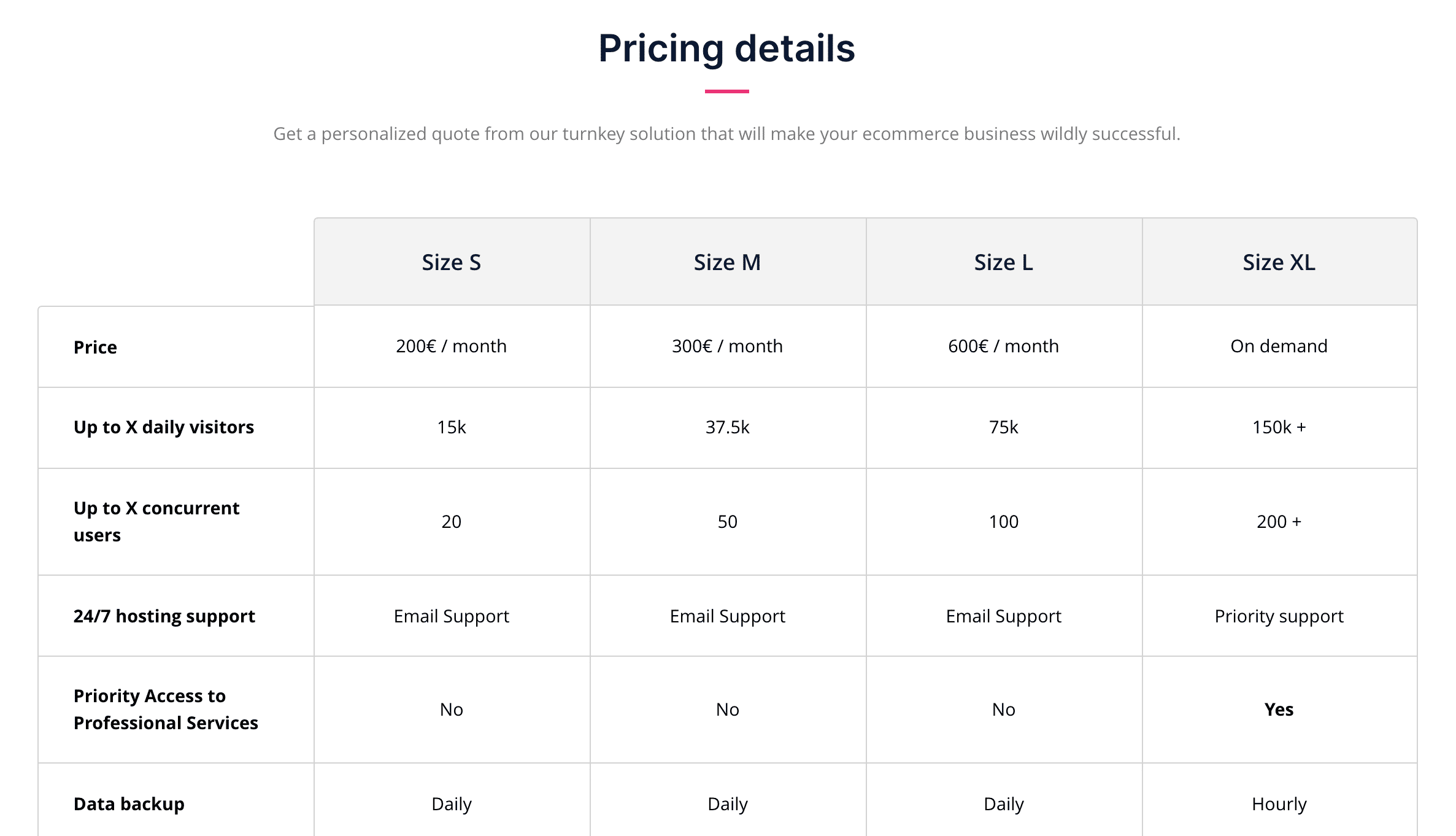 Key Benefits of PrestaShop
Simple Installation
PrestaShop is simple to install via downloadable files from the official website. You can have a functioning eCommerce store in a few clicks.
Simple Creation and Customisation
A rich suite of 'Templates' and 'Modules' is available via the Addons Marketplace to customise your store's look and feel, and add relevant eCommerce features, such as one-page checkout, to enhance the buying experience for your customers.
Budget-Friendly
As a small or medium-sized business launching an online store, PrestaShop is a budget-friendly option.
Minimal investment is required to set-up your store, as it operates via open-source software that is free to download. However, there are eCommerce platform upgrades such as PrestaShop Platform available to support your business as it grows.
Go International
PrestaShop has a range of features to help your online store go global.
You can choose the country to make your store available, adapt your store to the market you target, and set currencies and automatise the exchange rate movements.
Prestashop is also available in over 75 languages, so you grow your customer base internationally regardless of country or currency.
Safe and Secure Payments
There are a range of reliable and convenient payment options offered through PrestaShop that are secure and provide peace of mind against fraudulent activity.
A one-page checkout process also reduces customer friction to boost the product purchase.
Apps & Integrations
There is a suite of 'Modules' via the Addons Marketplace on Prestashop to add relevant features to your eCommerce store.
A range of technology partners, including payments providers is also available so you can find the right service for your business. Among these providers are a range of 'payment gateways', including one-stop solutions, which can be used to accept card payments online.
Want to know more?
For more helpful hints on growing your eCommerce business, search #PixxlesPowerUps or visit our 'News & Views' page to read more useful blogs.